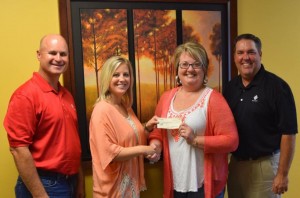 The Delta Region is home to the poorest families in the state of Arkansas. Urbanization and the shift to mechanization of farm technology during the past 60 years sharply reduced jobs in the Delta. People have followed jobs out of the region, leading to a declining tax base, which hampers efforts to support education, community health and other vital aspects of growth. The region's people suffer from unemployment, extreme poverty, and illiteracy. Statistics show that parents in the Delta Region have some of the lowest recorded numbers of parent involvement in the state, as reported in the Indicator 8 section of the Arkansas Department of Education website.
The Center for Exceptional Families is working hard to alleviate some of the problems facing those families in the Delta, who have disabled children. In the Summer of 2015 TCFEF received a grant in the amount of $10,000 from Ag for Autism, an agricultural organization dedicated to the education and awareness of autism related issues. The grant funds are used specifically in the Delta Region, to educate families living with disabilities regarding special education services and supports. The grant targets parents specifically to help them develop self-advocacy skills, aiding them in reaching their full potential as advocates for their children.
The Center for Exceptional Families began the Delta Initiative II, August 1, 2015 by identifying specific areas of low parent involvement in the Delta Region, contacting agencies housed there and working with them to provide special education and related workshops throughout the affected area. Our ongoing goal is to provide parents every opportunity to access the material and gain particular skills from the information shared by The Center for Exceptional Families.
If you are interested in a workshop or would like for information on our center and services please, complete the form below.  We will contact you within 48 hours.  Lakesha Whitman (Associate Director for the Center and Parent Mentor for Region 3) and Frances Johnson (Multi Cultural Specialist and Parent Mentor for Region 2) will gladly answer any questions you may have regarding the Delta Initiative II.
[contact-form-7 404 "Not Found"]