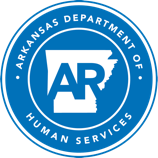 On this page, we have compiled different medicaid resources for caregivers of kids with disabilities and adults with disabilities.
Here you will find the comprehensive plan for DHS to restart renewal processes for Medicaid on April 1, 2023.
Information about DHS's campaign to remind Arkansans to update and renew their Medicaid.
ACCESS Arkansas is a one stop shop ONLINE for numerous assistance programs including Medicaid programs, Supplemental Nutrition Assistance Program(SNAP), Childcare Assistance, Transitional Employment Assistance(TEA), and more!
This program is for people ages 19 – 64 who meet income and other requirements. Coverage is provided either through an individual qualified health insurance plan or traditional fee-for-service Medicaid.
This program for is for children and teens. ARKids A provides a full range of health care services to children under age 19 with family income under 142% Federal Poverty Level. ARKids B provides coverage to otherwise uninsured children under age 19 with family income equal to or over 142% but under 211% of the Federal Poverty Level. Arkids B provides a more limited range of services with limited co-pays for some services.
The Community and Employment Support(CES) Waiver helps support indiviuals with disabilities to live, learn, and/or work in their community. From respite care for caregivers to employment coaching, there are many different support services this waiver provides! The waiting time for this waiver is long, so apply as soon as your child recieves a disability diagnosis!
The Provider Led Arkansas Shared Savings Entity(PASSE) Program serves Medicaid clients with complex behavioral health, developmental, or intellectual disabilities. A care coordination company is provided to those who apply and qualify for the PASSE to help them access available supports and medical services.
For families who have a child with a disability that don't qualify for traditional medicaid due to their income, they may qualify for TEFRA. The Tax Equity and Fiscal Responsibility Act (TEFRA) is a Medicaid program that can help families with children younger than 19 years old who have a disability receive medical care and services so they can stay in their home rather than an institution.
There are many other Medicaid programs that families of children with disabilities and adults with disabilities may qualify for.
Watch past meetings, read newsletters, and learn about DHS staff and Medicaid Client Voice Panel members. Woud you like your voice to be heard as a participant of Medicaid Programs? There is an application on the page as well!