---
Wiggle worms welcome!
Join us at Jonesboro's Malco Towne Cinema for Sensory Cinema and enjoy a movie in a comfortable and accepting setting which includes…
Moderately dimmed lighting
Comfortable temperature
Lowered volume
Guests are welcome to move around and be themselves. Tickets are available only on the day of the event and only in the theater lobby.
The cost is $8 per person and we only accept cash at this time. This pricing does not include concession.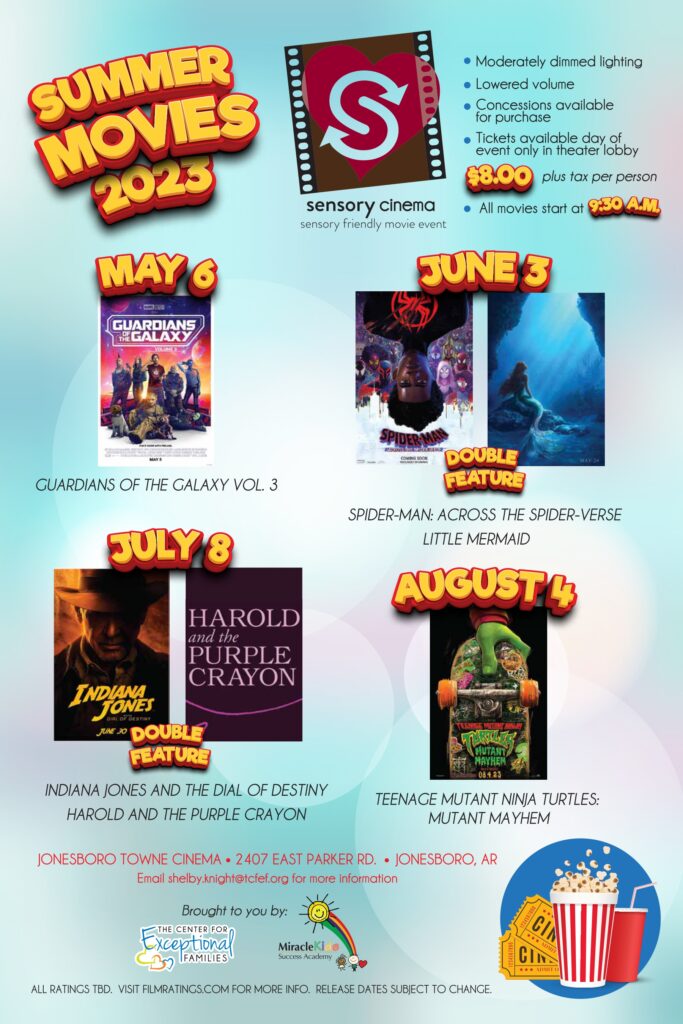 **Correction: Teenage Mutant Ninja Turtles Mutant Mayhem will be showing on August 5th**
Click Here for the PDF version of our Sensory Cinema Flyer. Click Here to go to our Calendar to see Upcoming Sensory Cinemas!
One of the goals of The Center for Exceptional Families is to insure that parents of children with disabilities are supported and included in community events. In addition to the numerous educational and informational training opportunities the Center provides statewide to families, TCFEF also maintains a program that affords families of children with disabilities and adults with special needs or sensory issues a specialized, sensory friendly movie experience.
Sensory Cinema was developed to address a need for social outings for families living with disabilities in the Jonesboro area. The program has since grown to include other communities across the state, with
Sensory Cinema being held on occasion in Fort Smith, Russellville, Batesville and Monticello. In comparison to a typical movie experience, a Sensory Cinema movie offers dimmed lighting instead of a completely darkened theater, few if any previews to upcoming movies, lowered volume on surround sound so as not to overwhelm the senses and the best part: children and adults are not required to sit still for the movie experience. All have freedom to experience the Sensory Cinema in a way that best suits their individual need. Whether that's pacing the hallways, standing in the aisle, or sitting on the steps, all are accepted forms of participation.
All in all, it is a casual, less stressful environment for children and adults with sensory issues. Still, although the special movie-going experience is geared toward families of children and adults with special needs or sensory issues, Sensory Cinema is open to anyone who would like to attend. TCFEF has entire families attend regularly; parents, grandparents, aunts and uncles all attend together and enjoy the experience with their loved ones. In some cases, parents use the Sensory Cinema experience to help their child transition to a comfortable movie experience without the sensory helps in place. Oftentimes a child new to the experience cannot make it through an entire film, and concession are made in those instances.
Thank you to Miracle Kids for being our current sponsor for Sensory Cinema! If your company or organization would like to sponsor or if you would like to hold a Sensory Cinema in your town, please email [email protected]!

---
"Our son loves movies, but it's hard to take him to see them at the theater because of the crowds and noise levels, and he can't always sit still and be quiet through the entire film. Sensory Cinema has been such a blessing to our family because not only can he enjoy movies on the big screen we can do it in a stress free environment for both me and him. He can see his movie and be himself, and I'm not spending one and a half to two hours on edge wondering what's going to happen next – whether it be with him or the people sitting next to us being bothered." – Erin Brown, Jonesboro
---
Sensory Cinema